Solidarity fundraiser for LGBTIQ+ refugees & migrant in Malaysia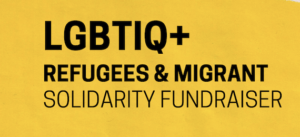 LGBTIQ+ refugees and migrants in Malaysia have dire needs and they urgently need support. Because of their sexual orientation, gender identity and expression (SOGIE), many are forced to migrate and seek asylum from discrimination and persecution faced in their home country. 
Our collective documentation shows that LGBTIQ+ refugees and migrants face various forms of persecution and ill-treatment ranging from forced marriages, violence and exclusion by family members, surveillance and restriction of freedom of movement, withdrawal of financial support, conversion practices, and restriction or deprivation of the right to education. Most of them have zero support systems and some face increased violence following the loss of a supportive family member. It was also reported that some continue to face harassment by family members even after they have migrated to Malaysia. As a result, LGBTIQ+ refugees and migrants do not want to or are unable to return to the country they come from. 
In Malaysia, LGBTIQ+ refugees and migrants are excluded from services and face various forms of  violence, including state violence with impunity. Malaysia has not ratified the UN Convention on Refugees, and asylum seekers and refugees are unable to work legally, access medical care or send their children to school. Anti-LGBT and anti-refugee and migrant sentiments in the country has intensified. Consequently, many continue to live in fear and isolation. Moreover, most LGBTIQ+ refugees and migrants are not connected with LGBTIQ communities in Malaysia, thus have limited access to LGBTIQ+ -affirming support services.
As a joint effort with human rights groups Garabtaag, Jejaka, Justice for Sisters, among others, strive to provide support for LGBTIQ+ refugees and migrants in various ways. But our support services are underdeveloped, and capacities, as well as funds, are limited. We are running a fundraising campaign to help meet the needs of our LGBTIQ+ refugee and migrant siblings
What are the issues that refugees and migrants in Malaysia need? 
Safer housing.

Many refugees and migrants in Malaysia are not able to express themselves and often have to hide their gender expression, gender identity and sexual orientation due to fear of discrimination, violence, exclusion, and loss of support from their communities. LGBTQ+ refugees have reported anti-LGBT discrimination from refugee communities.

Due to the absence of a legal framework that recognises refugees in Malaysia

, they are not able to work legally. Many are forced to work informally to support themselves, leaving them vulnerable to arrest by the authorities and exploitation by employers. With the rising xenophobia in Malaysia, finding

employment

opportunities can be challenging. Often, refugees can only access part-time jobs, which pay between RM 600 – 800 per month. Women and LGBTIQ+ refugees and migrants are the most vulnerable to sexual harassment.

Because of employment issues, refugees and migrants have limited access to

food

. They often go to bed hungry and live in extreme poverty.

Access to

healthcare

is restricted. Some refugees and migrants developed health issues while in Malaysia; some have pre-existing health conditions that they are unable to treat due to the lack of financial resources and have almost no access to government services. Other hindrances to seeking healthcare include the lack of information about friendly and affordable hospitals and the fear of travelling without a UNHCR card or legal documents.
Who and what are we fundraising for? 
The fundraiser aims to raise RM 42,000 to support the cost of living for 7 LGBTQ+ refugees and migrants. 
Rent – RM 500 x 7 people x 4 months = RM 14,000
Food – RM 400 x 7 people x 4 months = RM 11,200
Health – RM 300 x 6 months = RM 1,800 
Education tuition fees – RM 11,000
Contingency (transportation costs, housing deposit, etc.) – RM 5,000
You can channel your contribution here 
564717527444
MAYBANK 
PERTUBUHAN JARINGAN KEBAJIKAN KOMUNITI
Please state refugee solidarity for our reference 
For more information, please contact hello@jejaka.org or garabtaag@gmail.com
What else can you do to support LGBTIQ+ refugees & migrants? 
Volunteer with us to manage fundraising campaigns,

Organize your own fundraisers, food drives, awareness-raising campaigns  

Help us develop long-term solutions 

create employment opportunities for LGBTI refugees and migrants

safer housing for LGBTI refugees and migrants. for example, if you are interested in providing housing at discounted rates, please kindly reach out to us

ensure access to health services for LGBTI refugees and migrants. 

create consistent access to food so that no refugee and migrant goes to bed hungry 
Download & share our call for donations 
Instagram story 
The LGBTIQ+ refugees and migrants solidarity fund is an initiative by Garabtaag, Jejaka, Justice for Sisters & Queer Lapis with the support by Rachel Ong and Azzad Mahdzir of Empathy for Youth Academy.