We Understand the Pain: LGBTQ Malaysians Speak Up for Migrants & Refugees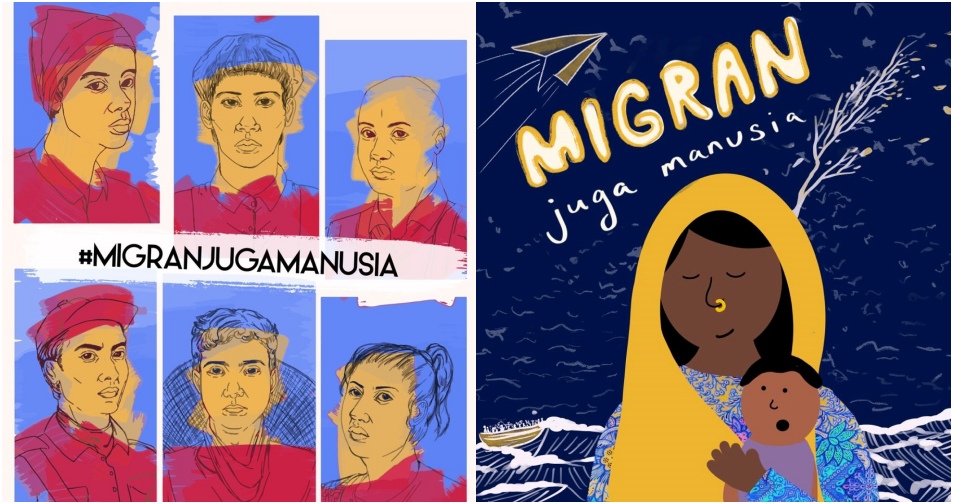 By Queer Lapis
On Labour Day, a photo taken discretely from a window started to circulate. It showed people lining up on the street personnel in hazmat suits scattered around them. 
The government cracked down on migrants and refugees in KL that day.
They were forced onto the streets by the police and armed forces, and those without documentation—children as young as four—were pushed into trucks to be sent to migrant detention centres.
On 3rd May, the #MigranJugaManusia protest erupted online in response, and we are proud to see queer voices joining in the chorus of demands for migrants rights.
We wanted to feature some of their posts and interviews here on Queer Lapis.
Among the many great lies we told ourselves is our immunity and the immunity of this country iss built through singular, individual merits. To deny migrant rights is to deny the foundations of Msia, our identity and ancestry. #MigranJugaManusia pic.twitter.com/DQCygaw4Kh

— Veshalini Naidu (@VeshaNaidu) May 3, 2020
How long can we be complicit in the mistreatment of migrants?#MigranJugaManusia pic.twitter.com/Cg0GmIgEQe

— Bryan (@bryandamien_) May 3, 2020
We stand in solidarity with every migrant workers, every refugees, every minors around the world who are facing this on a daily basis.#migranjugamanusia #refugeeswelcome #nooneisillegal pic.twitter.com/mrbtISuw7q

— Izzy Ash (he/him)(they/them) (@EcoVeganarcho) May 3, 2020
"Human rights are not reserved for citizens: they benefit everyone who is on a State's territory or within its jurisdiction, without discrimination, whatever their administrative status and circumstances." #MigranJugaManusia #MigranJugaManusia pic.twitter.com/rPhytxS17j

— sarah (@sunflwrsarah) May 3, 2020
Migrants Aren't Pushing Down Wages.

It's Your Boss.#MigranJugaManusia pic.twitter.com/NMCRF0nWnJ

— Stay At Home Soybean Socialist ✊🏼 🏳️‍🌈 🏳️‍⚧️ (@Natcromancer) May 3, 2020
The only difference between "us" and "them"? We had a longer head start and way more space. Hopefully, our authorities and larger society will realise that conversation and creativity are the best materials to build a bridge across communities. #migranjugamanusia pic.twitter.com/smXe9jmf4d

— TS Baby Deric (@babybinbaik) May 3, 2020
Human rights are not conditional. There is no place for discrimination in Malaysia.#MigranJugaManusia pic.twitter.com/U9maRSvTgk

— Ann Li ? taking a break (@annlikhaw) May 3, 2020
And finally, we also have a queer activist in Singapore lending his voice.
What drives us to speak out?
"I think it's because we understand the pain that these refugees and migrants are going through right now being villainised and attacked by hateful elements in society simply for existing", Nat, one of the queer protesters said.
We are no stranger to being the target of hate and disinformation. Recently, LGBTQ people were blamed for Covid-19 on viral social media posts.
Minorities are convenient scapegoats to direct blame and anger for complex issues, and the crackdown was simply a shock and awe tactic used to distract public attention, to signal that the government was 'doing something'. It's not the exact same, but it recalls how LGBTQ people are criminalised to vaguely prevent 'moral panic' just as much for 'public health'.
No one is safe until all of us are safe
"We recognise that the intersections of oppressions that xenophobia against migrants and refugees are part of the same oppressive ideologies that allow homophobia, sexism, transphobia, racism to exist", says Nicole, another protester.
Li expands, "The rhetoric behind their hate is the same [as ours], 'X marginalised group should be grateful to even be tolerated here!". She herself used to subscribe to a nationalistic 'Malaysian first' attitude earlier in life, which was informed by past experiences.
However, when she met a queer refugee, it opened Li's mind to their struggles and realised it was unfair to pick and choose who deserves to get help on the basis of identity and stereotypes and she now supports the rights of migrants.
"For them to have decided to come to Malaysia of all places, their past must have been far far more terrifying. I suppose I feel more sympathy for them, that they thought they were going to find a better life only to be met with so much hate", she reflects.
Where do we go from here?
As our journalists are investigated for reporting human rights abuses, it's even more important to speak up. Our art and placards represent a glint of hope in a sea of hate. They serve as reminders of the hundreds of migrants locked up in detention centres right now, who are treated as less than human on the basis of their citizenship. 
Our protests shed a light on larger forces that bear down on us all—the readiness we have as a nation to dehumanise and enact violence against each other—and how, at any moment, we could be at the receiving end of injustice.
We watch our government's failures as they pick the easy way out and transfer the anger of Malaysians onto migrants who cannot defend themselves. As they are placed in unhygienic detention centres, where Covid-19 can spread uninhibited, it doesn't take a queer person to ask, whose public health are we really protecting? 
That's the point, Sarah says, "One does not need [to be queer], to go through unbearable struggles to understand others who are suffering. It is just within human nature to care and empathise with others". We're here, not just because we're queer, but because we're human.
Read more:
On this May Day, I think about the barbed wires that coil around us all