Malaysian Boys Resist a Homophobic World Through Femininity In This Photo Project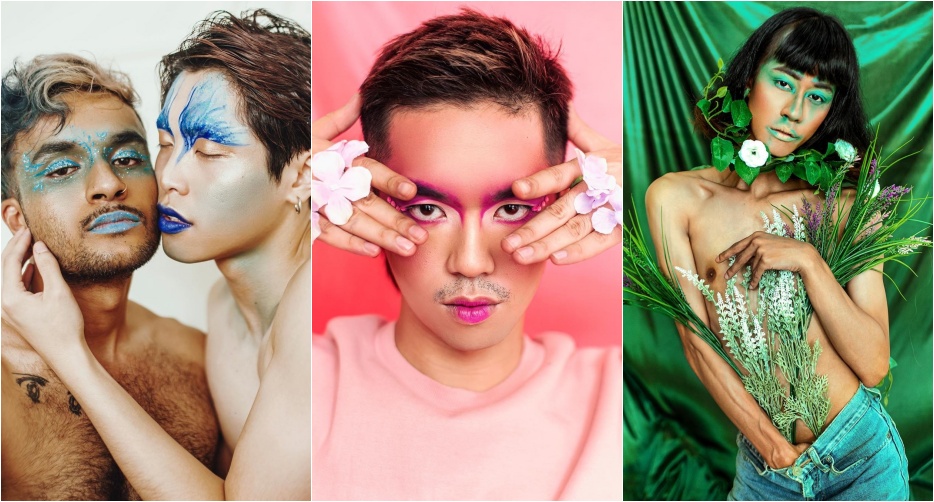 By NICOLE FONG
'BOYS' is a series of photos launched in February that features Malaysian boys exploring the fluid nature of sexuality and gender through their feminity. You may recognise a few faces as some of them are Malaysian's up and coming drag queens, such as Cik Teh Botol, Kumela Kumslut, Hellis Hot and other equally talented, openly queer artists. I spoke to Daniel Adams, the Malaysian conceptual portrait photographer behind the project to find out more about it. Some of the answers were edited for length and clarity.
1. What inspired you to do the 'BOYS' photo series?
Daniel Adams: I have always enjoyed photographing boys in a more feminine manner, exploring sexuality & gender in its most fluid form. I wanted to shoot a series of images focusing on gay individuals in KL, celebrating their creativity and giving them a chance to express themselves through this platform. 
2. Which communities do you identify with and what do they mean to you?
The LGBTQ+ community holds an important place in my heart. I have been surrounded by the community for years, here as well as in England whilst I was at university and there is only love that resonates from the people that I have met. I'm more than fed up of the discrimination and the abuse that the community faces, especially in Malaysia. Every individual should be able to express their gender/sexuality freely without having to live in fear of what might happen to them.
 

 

View this post on Instagram

 

3. Besides sexuality, you've previously explored issues like disability, racism, colourism. What compels you to respond to social issues in your work?
(Editors note: Daniel has also created other powerful and provocative visual series, "An Unconventional Standard" and "Dark Skin Is…", which explore the issues of disability, colourism, and racism.) 
I started out creating art based on the everyday. But as time moved on, I began to understand how diverse and powerful a medium like photography was in creating awareness and educating individuals. 
Don't get me wrong, I love creating work that doesn't necessarily have a meaning behind it and that focuses on aesthetics. However, creating work with a social/political agenda behind it, that allows for the audience to learn more about the individuals photographed or what they go through, is something that gives meaning to what I do. I want to be able to make a difference, even if it's a small difference, it's a start to what could become something bigger.
4. What are the reactions that you get from the people that you know, and the ones that you don't, such as online followers? 
The people that follow me and the people who I surround myself with only ever have positive feedback on my work. They're open-minded and support the stuff that I do, and I'm incredibly thankful for that because it is EXHAUSTING having to deal with trolls and hate comments so often.
Having said that, my following is not an accurate representation of the mentality of average Malaysians. The only time I have seen negative feedback is when it's related to LGBTQ+ community. It may be a heated argument, BUT at least it is still a discussion being had. It's better to have people talking about it than have the issue hidden away.
 

 

View this post on Instagram

 
5. What is the relationship you have between you and your participants/subjects? What is it like to work with them?
Majority of the individuals in the BOYS series are my friends, but they are all people I have met before or spoken to prior to meeting them for this shoot. It's a huge collaboration between myself, the participants and the makeup artists. I let them express their creativity and if there were any small tweaks, I'd let them know. I'm a very 'go with the flow' kind of guy when it comes to my own projects, I want to see where things go based on the atmosphere and the ambience of the shoot.
6. What do you think of the laws or issues in Malaysia regarding space for LGBTQ+ representation andpand narratives?
I understand why they are there and why they are trying to enforce it. A large chunk of Malaysia is incredibly against the LGBTQ+ community and it is what they've grown up with. It comes from what they know. I don't agree with the laws or the way that the LGBTQ+ community is treated in this country. People keep thinking that I am imposing my views with my work/thoughts because I look white. Malaysia is my country, I'm a proud Malaysian, born and bred and I'll continue to advocate for what I believe in.
Without further ado, here are some beautiful shots from BOYS!
---
Follow @danieladamsphotography on Instagram to see the rest of the series and other projects featuring LGBTQ+ individuals such as "Love & Other Drags", featuring Malaysian drag queens and "Trans Men of Malaysia", featuring Malaysian trans men. 
Editors note: Daniel would like us to credit the people who have made this project possible. MUA: Khushboo, Vivien Loh, Mandy Lee // Assistant: Lobach // Models: Sam, Carlos, TJ, Win Shean, Hazlami, Adam, Imran, Thaaya, Peter, Jin Hong, Kevin, Asyraf
---
Nicole Fong is a data analyst, researcher and activist, who champions minority communities to fight against our capitalist, heteronormative, patriarchal, ableist, imperialist, white supremacist society in a bid to end all systems of oppression.