King Oyster Mushroom Rendang (Recipe)
BY RAW CHEF YIN.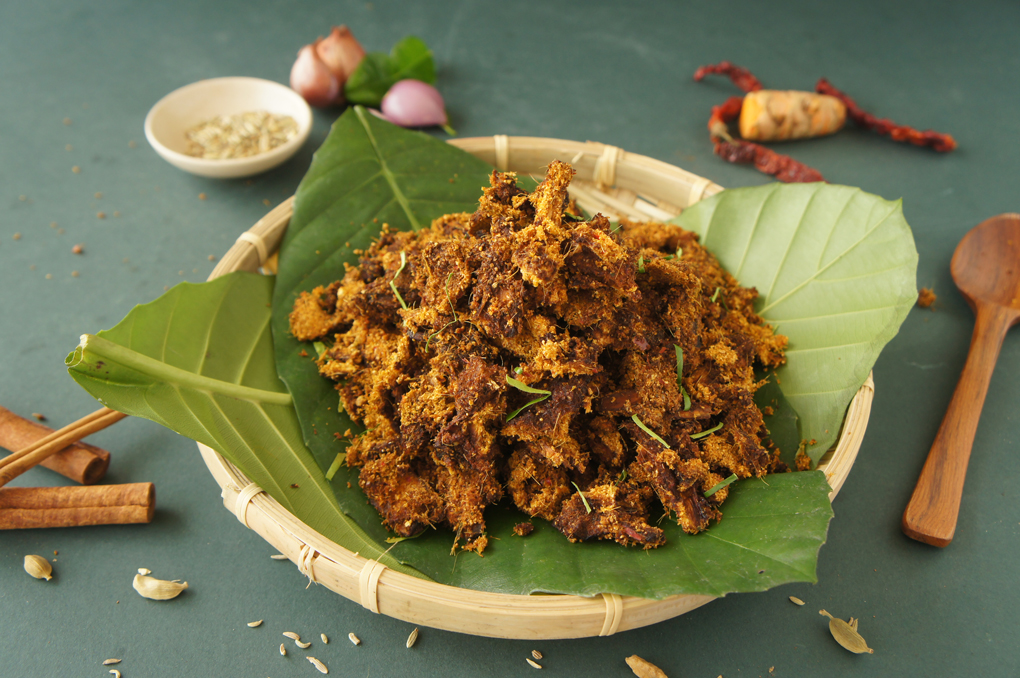 Tired of hearing about crispy chicken rendang? Raw Chef Yin shares with us her very own recipe for a raw vegan rendang mushrooms.
INGREDIENTS
For the mushroom meat:
200 grams king oyster (Eryngii) mushrooms
For the rendang paste:
3 kaffir lime leaves, torn into pieces
3 stalks lemongrass, sliced
2 turmeric leaves, sliced
1 ½ tablespoons coriander seeds
1 tablespoon fennel seeds
1 tablespoon cumin seeds
1 teaspoon cardamom pods
1 yellow onion, roughly chopped
3 cloves garlic, sliced
1-inch galangal, sliced
1-inch turmeric root, sliced
6 dried red chillies, soaked and cut into pieces
1 red chilli, sliced
½ cup tightly packed freshly grated coconut
1 cup freshly squeezed coconut milk
1 tablespoon organic, wheat-free light soy sauce
1 tablespoon organic, wheat-free dark soy sauce
1 teaspoon organic unpasteurised miso paste
Organic salt, to taste
For garnish:
2 kaffir lime leaves, sliced into thin strips
METHOD
Cut the Eryngii mushrooms into 2-inch pieces. Use fingers to tear the mushrooms into bite-size pieces. Place in large mixing bowl.
Place all ingredients for the rendang paste into a food processor and blend till well-combined.
Pour rendang paste on top of mushrooms and use hands to massage in the paste until all the mushroom pieces have absorbed the paste.
Place mushrooms onto non-stick dehydrator sheet and dehydrate till desired consistency at 45 degrees Celsius. It will take around 5 hours. Mid-way, turn mushroom pieces over so that all sides are dehydrated.
Sprinkle kaffir lime leave strips on top and serve.
~ ~ ~ ~ ~ ~
Raw Chef Yin is Malaysia's very own raw vegan celebrity chef with a book, a cooking show and countless demos and workshops under her belt. She wakes up every morning trying to answer the question: how does one make raw vegan food yummy and sets out to achieve it. She has been dedicating her time to helping people all over Asia make beautiful, delicious raw vegan food and has been seen conducting fun sessions in Hong Kong, Taipei, Singapore, Bangkok, Chiang Mai, Kuala Lumpur, Penang and Petaling Jaya.