#WomensMarchMy Stories: I Knew I Wasn't Alone in My Struggle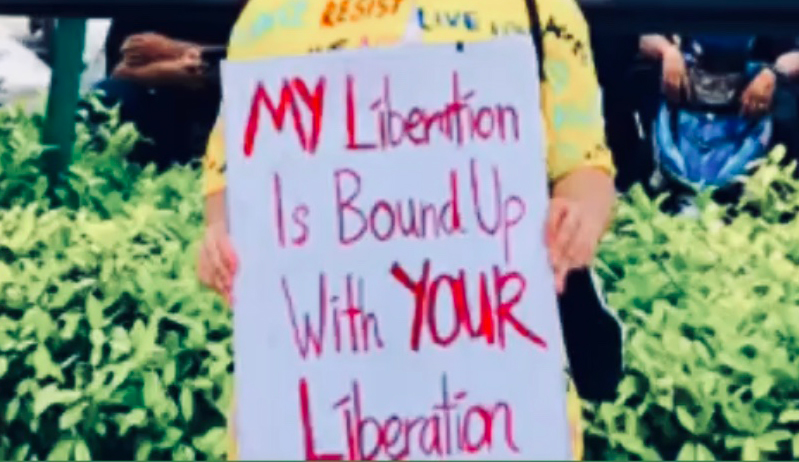 Peace Be Upon Your Revolutionary Heart ♥️
My reflection of #WomensMarchMY on 9 March 2019M
I started the day as energised as ever, having watched Captain Marvel the night before, the first female-led Marvel superhero movie. 🏼
My new friend and I took the LRT and made our way to Sogo. I met more friends there. Friends I have invited to march with me for their first time and friends I have known through my involvement with #WomensMarchMY activities. ⚡️
The March started out with speeches to get the crowd going, we learned some chants to be echoed throughout the march such as "Hidup Wanita/Perempuan!" "Gaji Bermaruah, Seribu Lapan!" "Haramkan Nikah, Bawah Umur!" "Hentikan Hentikan, Keganasan. Hapuskan Hapuskan, Patriarki". My personal favorite is "Patriarki Pergi Mati"—an energetic chant that follows the tunes of "When The Saints Go Marching In." People marched with their placards—witty, colorful, informative, some simple and straight-forward—together the placards are a beautiful parade of art and activism. Placards carry meanings and commentaries of the struggles, some personal, some relatable, some universal.
At the end of the march, we congregated at an open space between Masjid Jamek/Dataran Merdeka. There were insightful speeches by women from different walks of life—orang asal woman, a woman with disability, women from WAO (Women's Aid Organisation) and SASH (Signs Against Sexual Harassment), a woman who spoke about sex work, university students who spoke about their administrations being irresponsible with harrassments cases, a youth campaign against sexual harassment called DearHer, a transgender woman demanding for equality and respect, a non-citizen woman speaking about her experiences, a poet who shared her words with the crowd to be recited collectively to the beats of our claps. My friend Reen got the crowds shooketh with her sharing and delivery of "Kerana Kita Adalah Wanita" by Joyce Stevens. IT WAS AN ICONIC MOMENT! IT WAS MOVING! IT WAS SOO PRECIOUS!
️☀ The weather was hot. The sun was shining bright above us, but our hearts and faces were shining through with our shared solidarity and salty sweats of course! An engaged crowds ~ constantly listening, cheering and supporting of each other. I felt so privileged to witness and be included in such space, a safe space, an inclusive and diverse space. 🙏
The march came to an end. People were embracing each other's placards, snapping photos with friends, and I even made some new friends who thought my artsy-social-justice-shirt is hella cool! That shirt was a gift from my bestfriend.🤩
I went home feeling high from this awe-inspiring moment. One of the best days of my life indeed! 😌
Boom!
LGBT March? Some politicians diverted the true narrative by singling out a minority group who were also marching. Although the #1 demand is for ending all violence based on gender and sexual orientation!
Boom! ☄️
My photo, along with some others, was in some Facebook and whatsapp groups without our consent, in which the march was being painted as an LGBT rally. WTF?
Boom! 🌪
Keyboard warriors with their rotten akhlak attacked #WomensMarchMY pictures and posts on social media without knowing the true context of the march. There were even death & violent threats against innocent speakers, organisers and rally-goers. WTF?
Boom! 🌊
The organisers had to make a media statement on how the backlash against the march distracts from the key demands above. Some media didn't help much to aid the honest narrative coz you know it ain't juicy enough to spark readership.
Boom! ⛈
The viral posts spread into my family's whatsapp group and caused unease in their hearts. I didn't even bother reading the comments on those posts because I know those strangers' comments come from hate, not love. People who spew hate in the name of religion to make themselves feel good? Hello, do your research. Thank you, next!
Boom! 🌫
The so-called Malaysia Baru authorities are not making it easy for the organisers… surprise surprise?
😔 I have always been a resilient person, but moments like these truly break my heart. For two days after the march I was felt kinda scared and shameful of my activism, when I shouldn't be! This is partly due to the heightened visibility and the impact on my family. People who were not there at the march don't deserve to comment on it unless they have done their research. However, the haters' version of "truth" is what some people want to hear and see so that they could continue to justify their hate!
I was weeping all night and through my sleep on Sunday. I knew I wasn't alone in my struggle, I reached out to my friends, some of whom were there marching and some of whom weren't. I'm thankful for people in my life who were truly proud of me for marching with them and on their behalf. They gave me encouraging words to honour my feelings and healings; I rebuilt my strength slowly. At work, some colleagues offered their words of kindness and support. Some colleagues were truly curious why the narrative of #WomensMarchMY has been derailed to that extreme just because there were 🏳🌈 LGBT crowds there. I managed to (vaguely) explain about INTERSECTIONAL FEMINISM to those curious minds.
I am so proud of myself for putting myself out there. Aye, I even managed to bring more friends this year! To listen to the demands and be in solidarity with the movement.
HONESTLY, I don't mind risking my visibility for just one afternoon in my 365 days per year to listen to the real struggles that some people face every single day of their lives, until something is done to make them right! I will not be ashamed of my activism, ever!
As one of the placards at the march goes:
WE WILL NOT BE SILENCED
Someone on Twitter also shared this doa for the heart and challenging ideological times:
"Ya Rabb, lay open the truth between us and our people, for You are the best of all to lay open the truth" (7:89)
If you've read this far, you should know by now that my liberation is bound up with your liberation! ♥️
Thank you everyone at #WomensMarchMy for sharing the spaces of your life with me. It was truly an honour.
~ ~ ~ ~ ~ ~