My Uncle's Harisa: Joseph teaches you to cook a famous Johor dish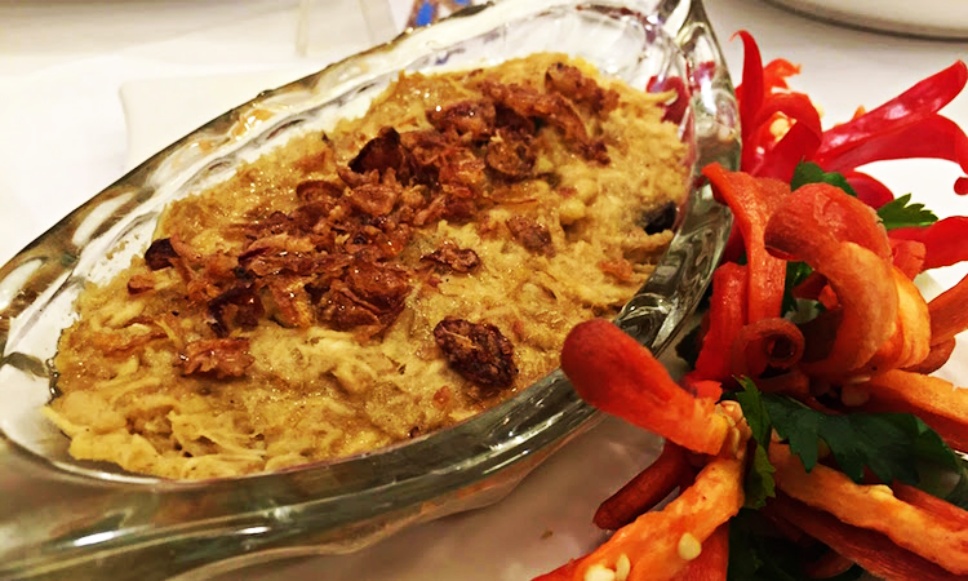 By JOSEPH HAMZAH ANWAR.
Harking back to the time when I was a small boy about 12 years ago in Johor Bahru. life was really slow-paced and full of adventures. Naughty children like us would run across the living room of our kampung with a kuih raya in our hands, leaving bits and pieces of the cookies fall to the ground just to have my grandmother shouting shakily.
"Don't run like that! See all these crumbs on the floor. Who's going to clean it up?"
The first day of Hari Raya Puasa has always been hectic with faraway families coming over, guests showing off their stunning baju melayus and intricately embroidered kebayas, and we keep eating and eating and eating like there's no tomorrow.
Jars of kuih raya everywhere, a cornucopia of fruits on the main table, and lemang with peanut sauce kept coming out from the kitchen.
I can liken the situation to a fashion show, but with a kopitiam where manna from heaven fell all at once. A mélange affair.
Labour of love
My uncle would make harisa, stirring it for hours before directing us to beat the top and the edge of the dish–that was transferred to a casserole–using a spoon until the harisa's edges curved slightly downwards into the sides of the 1970s vintage CorningWare.
Harisa is a Johor royal dish with Arab origins. It's comprised of shredded chicken, coarsely-ground oats, and seasoned with a plethora of spices. Apart from Johor, this wonderful delicacy is enjoyed by people from the Persian Gulf and in Armenia too. It's normally eaten during the holy month of Ramadan and Hari Raya Puasa.
The history of the dish in my family dates back to when my late grandmother was a chef in the Johor royal palace. She was adopted by the daughter of the then Johor Sultan as a young child from a poor Chinese family. She prepared the dish for it to be served to the royal family, British officials, and other guests.
The recipe was passed down to my uncle but not my parents, thus I haven't savoured harisa for quite a long time since we don't balik kampung (return to our hometown) anymore.
Sweet memories
I really miss the taste of harisa dipped in a bowl of viscous honey. It's like that longing feeling that you have, thinking of your first love. How hot he was wearing a celadon blue prefect uniform during the school assembly guarding lines of students.
Back to the business (Folks! Please pay attention here! I'm gonna share with you the recipe.),
Harisa is a challenge to cook as it requires meticulous attention, a number of ingredients, and most importantly, it takes time to stir it for up to –1½ hours. The one that I made was ready after stirring the mixture for 45 minutes.
If you keep turning the harisa (not letting the top part go uncooked) and have a hot wok to start with, the time taken for the harisa to cook would be shorter.
If you are up to a strenuous and tedious task to do during this CMCO, then why not give it a try!
It is also advisable not to take shortcuts as it might not turn out as expected. Do it slowly and you will feel content of the result.
---
Ingredients
:
1 whole chicken

4 large onion
8 cloves garlic
2 knobs ginger
8 cardamom pods
2 cinnamon sticks
8 whole cloves
10 black peppercorn (optional)
2 star anise pods
1 tbsp white pepper
1 tbsp kurma powder
600g oats
500g ghee
Salt (to taste)
Half a tin of evaporated milk
Fried shallots to garnish
Directions:
Boil chicken in a large pot with onions (chopped coarsely), spices (cardamom, cinnamon, star anise, cloves) as well as blended garlic and ginger and a pinch of salt.

Once the chicken is cooked, drain the broth and keep the onions for later use.

Debone the chicken and shred.

Place the chicken broth in a large wok or any pot with a thick bottom. When the broth starts to boil, Pour in the oats until it softens.

Add in the boiled onions, shredded chicken, kurma powder, white pepper, evaporated milk and ghee. Continue to stir for 1– 1½ hours until the harisa is ready.

Garnish with shallots and serve it with honey. Yum-yum, delish!
On behalf of the Queer Lapis team, I would like to wish all our readers a blessed and joyous Selamat Hari Raya Puasa. Maaf, zahir dan batin!
We are also looking for amazing queers out there who are interested to share their family recipes. Recipes that have been passed down are reflections on our history and families which give strength to our community. Drop us an e-mail at hello@queerlapis.com if you want your recipes published next in Queer Lapis!
---
Joseph Hamzah Anwar is currently studying in Ipoh, Perak and also an outreach worker for People Like Us Hang Out (PLUHO). He is fascinated by almost everything about nature, food, sexual health and certainly, LGBT activism.
---
Read more mouth-watering posts: