From one Malaysian trans woman writer to another: Julya Oui interviewed by Regina Ibrahim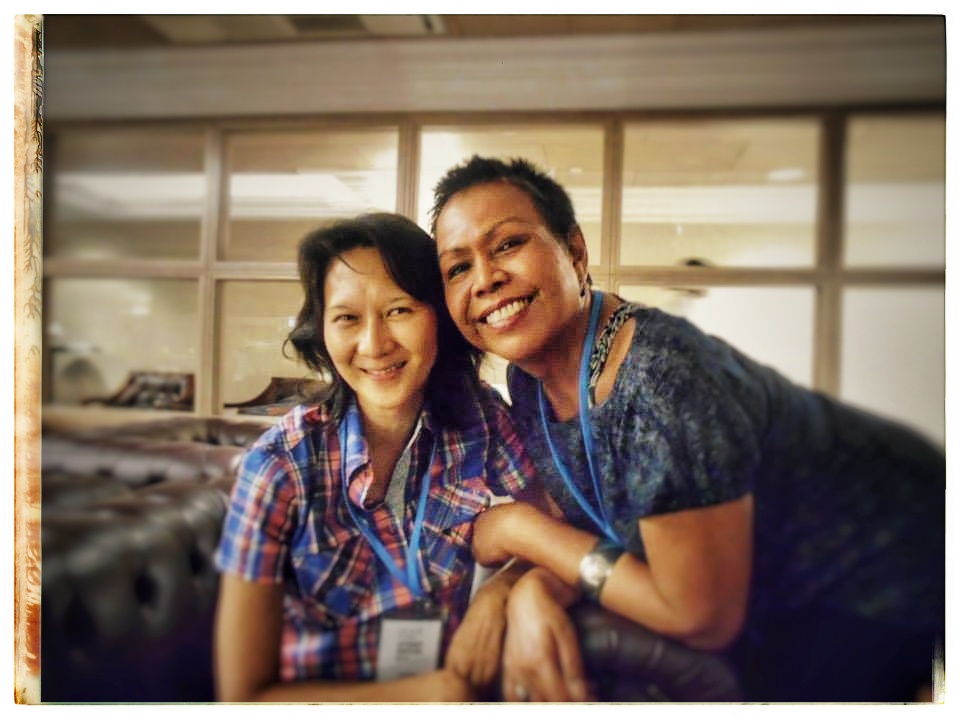 "SOMETIMES ALL WE need to do is to take the first step, plant a seed, and just wait," wrote Julya when closing her Queer Lapis article in which she reflected on her life transitions as she moved back to Taiping. 
We both launched 3 books together consecutively at George Town Literary Festival (GTLF) from 2015 to 2017. Meeting her for the first time during the greeting session at Royal Chulan Lounge, I found her very soft-spoken and eloquent. Unlike a writer of horror stories as I imagined. 
I rated Julya's horror trilogy with a remarkable number of stars on Goodreads and social media postings, NOT because we're both trans women, but simply because her work is fascinating and fresh. In fact, till today, I recommend her trilogy (all published by Fixi) to any of my literature Socmed students learning the ropes of writing horror.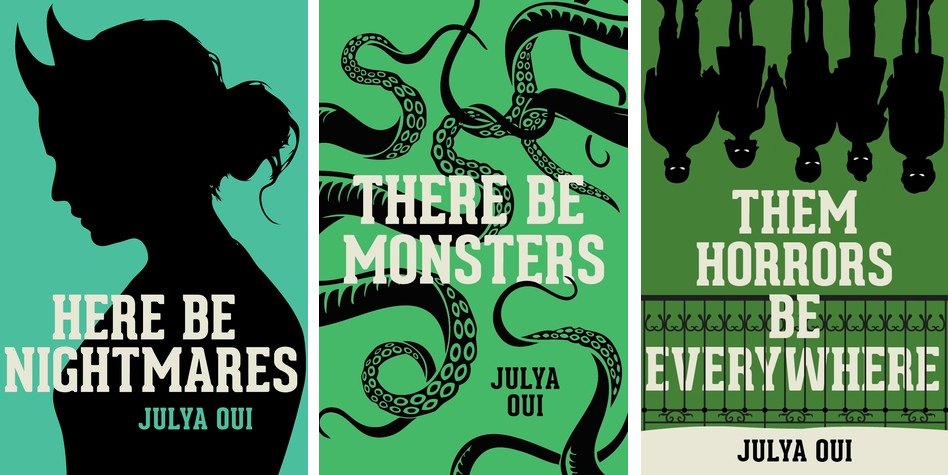 An author of vast experience, Julya has written some interesting shorts besides horror. You must read her short story that deals with sexuality and gender at the family level in the Hungry In Ipoh anthology, published by Fixi. Taiping tales of Terror, her latest is even published by Penguin, the international publisher!
Questions for Julya Oui
Why do you choose to write horror? What is about the genre that fascinates you?
If I could say it candidly, I would say horror chose me. But since we're in serious business, I love horror stories. I love the idea of telling a ghost story by the candlelight and not knowing where the story goes and eagerly preparing for the twist at the end. That is the intrigue and suspense I live for. And the great revelation, after everything is peeled off layer by layer until we see the ugly truth that started it all, is the plus point. The mother of all titillations.
I came from a time where superstition, tradition, and horror were intertwined into our lives as though they were part of a religion. If you believed in god you would also believe in devils, demons, black magic, possession, hauntings, ghosts, hell and Satan. How could I not want to write horror stories when all these threats were catapulted at me as a kid? It's payback time to scare others for a change.
Does your identity as a transgender person affect the way you write and what you choose to write about? Was transitioning also a factor?
As a transwoman I would never write about a crossdresser who identifies as a transgender who goes on a killing spree to vent out her frustrations. But I would write about a religious deviant who abuses children and poetically find himself living his own hell on earth. So, yeah, I would say being a transwoman affect the way I write. I believe every writer either consciously or subconsciously interweaves part of their spirit in their writing at that precise moment of their state of mind. It's no different with me.
It cannot be helped, authors like you and I are referred to as "trans woman authors". Are you comfortable with that? What was behind your choice to come out as trans? I used to write about the trans experience in my earlier work, as an advocacy of sorts. I don't think that's necessary now. What do you think?
I don't mind being referred to as a transwoman. If it is important for a person to differentiate between a cis and transwoman I have no qualms about it. That's their prerogative. I have better things to do.
I only came out as trans in Seksualiti Merdeka to educate people who had no idea who we were and to let my younger sistahs know that they were not alone. Ironically, if I told everyone I was trans they might think I was seeking attention or looking for special treatment. But if I don't tell them that I am trans they will come round to ask me why didn't I tell them I was trans. This happened to me a few times when I wasn't aware the library was open. I'm going to learn how to read them like Bianca the next time around.
For now, sadly, I think trans stories still need to be told and shared because the need is still there for the younger generation. For a country like Malaysia the need is even greater because every now and then the community is targeted for political games.
What are some challenges you face being an out trans author? Do you find difficulties at meet and greet sessions? Has the public been kind when discussing you and your work? Do you find it hard to get published as a trans person.
I think it was difficult for me to get published once they found out I am a trans woman back then but I have no evidence to prove that. But recently I have found out that certain booksellers refused to allow me to launch my latest book on their premises because of you know what. But I guess COVID 19 beat them to it.
So far, the public has been quite understanding and kind at the meet and greet sessions. The stigma of being trans in Malaysia is still frowned upon as if we are the Devil's advocate. But truth be told I don't mind the association, since horror is in my blood. If I can scare the person who cast the first stone then my work is done.
What is your relationship with the LGBTQ community? Many trans people choose to become stealth to operate in this cisnormative world. How do you negotiate these spaces?

I found my big happy family during Seksualti Merdeka days. It was the best of time to be LGBT then. If we had been allowed to carry on we probably would be celebrating Pride in the most spectacular way by now.
When I tried to apply for a gender change in my IC after my surgery it was rejected. Had I been able to have female printed in it I would most likely have gone stealth. But the pressure of going stealth would have devoured me alive. I wouldn't have been able to handle the fear of being exposed just at any given moment, always looking over my shoulder, in case someone recognised me from the past.
Now that I know better, I wouldn't compromise with the cisnormative world just to get accepted. I would rather they know me for who I am, because I am happy and proud of being who I am. I would rather not get invited than to play their game of hide and seek.

What is your approach to writing? Are you the type who plans rigidly or goes with the flow? How much of the stories you write reflect your personal life? Are there any secrets hiding in plain sight? As an author who vents her hopes, anger and dreams in most of my pieces, I'm curious to know.
I used to go with the flow when I started out. Nowadays, I plan my stories from the beginning to the end. But I will still go with the flow if the story takes a different turn instead of the one I had planned. There are a lot of personal devotions that go into my stories. Someone told me that my stories have very similar karmic consequences. I have tons of written materials written in paragraphs, one liners, keywords, and bits and pieces of memories. I usually select those that come to me, sometimes begging me to be written. I don't think there are secrets in the horror stories since they are already quite in your face, telling you like it is. But there are secrets hidden in my stories from other genres.
Common question for your uncommon stories: Where have you drawn inspiration? Some of the highlights include 'The Horns of Sister Mary Angele', where a nun suddenly grows mysterious horns and your elderly man-meets-alien sci-fi piece, 'Best Kept Secret'.
'The Horns of Sister Mary Angele' was me asking the question what if a religious person transformed into a demon like creature out of the blue. 'Best Kept Secret' was a nightmare I had about alien invasion—just like how I described it at the beginning of the story. 'The Cost of Suspension' was also a dream I had about hanging in midair for no apparent reason. 'The Curse of the Nail' came from an experience my landlady told me about carrying fresh meat in the night. 'That Oily Thing' was my mum's story about a perpetrator who broke into her room. Every tale told is drawn from every corner of my mind, whether accessed from reality or created from my imagination.
Has Taiping been kind to you as an author and most of all as a person?

Taiping has been a blessing to me in more ways than one. She is my sanctuary, my inspiration, my confidante. That is why I wrote Taiping Tales of Terror in honour of her. I will write many more books about my hometown before I expire. She has protected me, given me freedom, and loved me for who I am. She is Mother Nature's greatest gift. I grew up confused, broken, and alone. Yet by cycling around the Lake Gardens, dipping in the Burmese pool, and then sunning myself on the boulder, gazing at the stars at night and clouds in the morning, and staring at Maxwell Hill from the window, I find a reason to go on for another day.
What is some advice you'd like to give to young up-and-coming LGBTQ writers? What would you tell your younger self?
Go do what you must. Write from your heart and soul but remember to shed off the role of the victim after you're done crying and wallowing in self pity. No one can help you climb out of the hole you dug. Only you have the power to do that. When I was young I used to be the voiceless victim but now I'd rather be a rainbow warrior and blind everyone with the colours.
I would hold my younger self in my arms and whisper to her that it will all be over soon. In the blink of an eye. Those angry accusatory voices. Those holier than thou discriminations. Those trigger-happy finger pointers are no better than you. You will see them for what they are when the time comes. In the end it's all about your own journey.
Is there anything you want to add so that we'll know Julya Oui better?
I don't know if anyone would want to know me better since I am an introvert, a vegetarian going on vegan, a private person, an animal lover, one who believes in Mother Nature more than I do a God, and the kind of person who loves extreme peace and quiet over human dramas. Probably boring fits the bill because I am either pottering around the garden, playing with my doggies, vegging out watching something or other, or sitting at my laptop pounding away the next bestseller. It's only my mind that's like a runaway train lunging into spectacular worlds of wonder, imagination and intrigue. I'm not a foodie person but I love Indian food and I crave occasionally for curry mee. I used to have a sweet tooth until I became sweet toothless. I think I've said too much. Better stop myself before I pecah too many lubangs.
~ ~ ~ ~ ~ ~
Catch Julya Oui at 'The Malaysian Women's Manifesto' alongside other Malaysian women writers, Ann Lee, Carol Koh, Siti Rahayu Baharin and Sreedhevi Iyer. Sembang Baru/New Conversations, presented by PEN Malaysia, will broadcast live on the George Town Literary Festival's Facebook account at 8:30pm-10:00pm from 26-28 November 2020. Other conversations in the series include 'Kalau Sastera Bungkam, Bagaimana Saya Akan Bicara?' and 'The Politics, Poetics and Rituals of Translation'. All events at GTLF2020 are free of charge. Follow PEN Malaysia on Facebook and visit http://www.georgetownlitfest.com/programme-2/ for more information.
Regina Ibrahim is a writer based in Penang whose has published books in Bahasa Malaysia on the struggles of the transgender community of Malaysia, including Perjalanan, Lebih Duka Dari Suka, Buku Mak Nyah, and Budiman.