U Will Be Remembered: Transgender Day of Remembrance 2018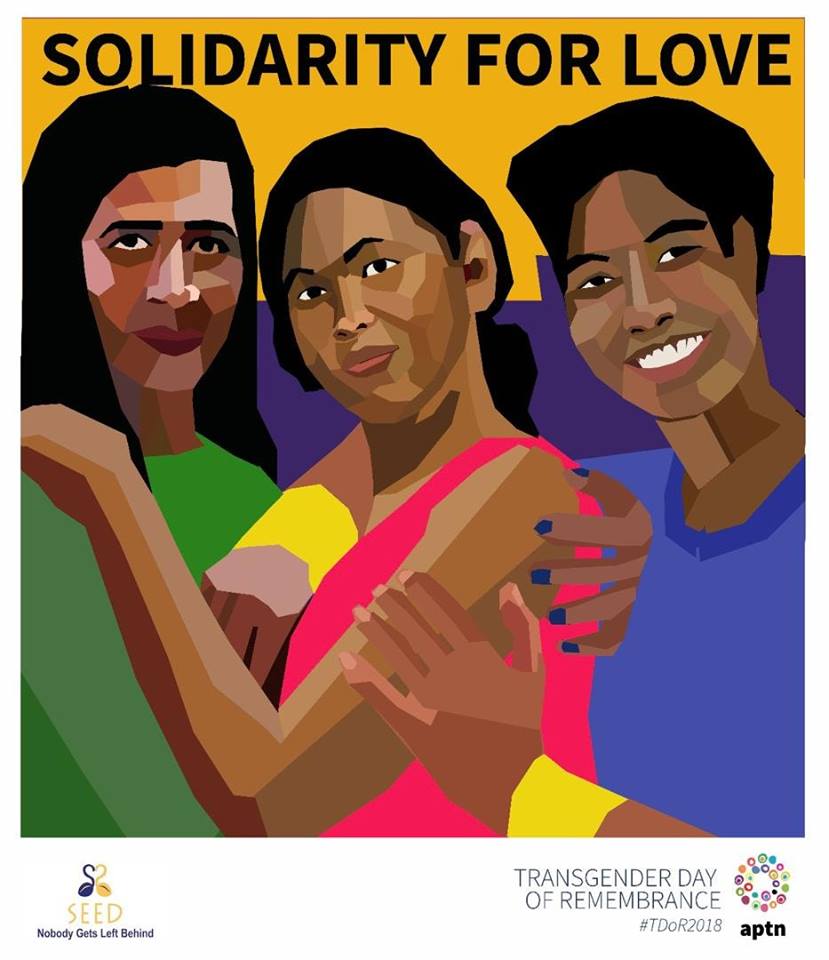 This year itself, there are more than 10 unreported cases of Transphobia, brutality, bullying, and hate crime towards Trans women in Malaysia that came to my knowledge.
One reported murder case happened recently.
Al Fatihah and Rest In Power to all Trans women before me.
The struggle of being who we truly are, the challenges of being 'different', the forever fight for being truthful to ourselves, remains.
In solidarity with those who observe the day.
— Danisha Affandi Tahir, KOMITED Malaysia
~ ~ ~ ~ ~ ~
20th November is Transgender Day of Remembrance. It's a day where we honour the memory of those whose lives were lost in acts of Anti- Transgender Violence and Hate Crimes around the world. It's really heartbreaking to see such hatred and violence towards a community which has harmed nobody, yet is being treated in such an inhumane way for just being true to ourselves. It's sad to see even in our New Malaysia, Trans people are still being targeted, rejected, oppressed, and discriminated, with so much effort to dictate and change our Gender identity because we express ourselves differently from others. There are few people who want to speak up about us the minorities of the minorities. I, Nisha Ayub, a Transgender Woman Advocate, stand in solidarity with all my Trans Sister's and Brothers around the world to speak for those who are not able to speak anymore in this world… 💖🙏 Trans people are still Human Beings. We deserve to be treated equally and given protection by the laws that protect everyone in our respective countries.
— Nisha Ayub, SEED Foundation
~ ~ ~ ~ ~
34% of trans people attempt SUCIDE. 64% of young trans people are BULLIED. 73% of trans people are HARASSED in public (ranging from INSULT to physical ABUSE). 21% of trans people avoid going out to public due to FEAR.
BEING A TRANSGENDER IS NOT A CHOICE.
CHOOSING TO HURT SOMEONE IS.
— Ferra Cynthia Reneildy
~ ~ ~ ~ ~
Transgender dilahirkan sama seperti orang lain, namun mereka dianggap berbeza hanya kerana tidak bertepatan dengan pembentukan pemikiran sosial masyarakat umum. Bahkan di sesetengah negara Transgender dianggap sebagai satu jenayah ataupun sakit mental hanya kerana mereka menjadi diri sendiri. Saban hari kita mendengar berita tentang Transgender menjadi mangsa kerana mereka adalah sasaran yang senang dan boleh dilihat.
Perspektif negatif mengenai Transgender harus diubah, mereka bukan dilahirkan untuk menjadi mangsa keganasan dan kebencian. Mereka juga punyai tanggungjawab dan peranan dalam masyarakat. Mereka punyai keluarga mahupun rakan taulan. Mereka juga mampu menyumbang kepada kesejahteraan dan membangunkan negara jika diberi peluang sama rata.
Jangan kerana mereka dilihat "berbeza" maka sewenangnya kita berhak untuk meragut nyawa mereka tanpa ada sebab. Kasih sayang sesama manusia tak kira etnik, agama atau gender haruslah disemai di setiap peringkat bermula daripada keluarga.
— Gisele Rimong Lidom, PKSP
~ ~ ~ ~ ~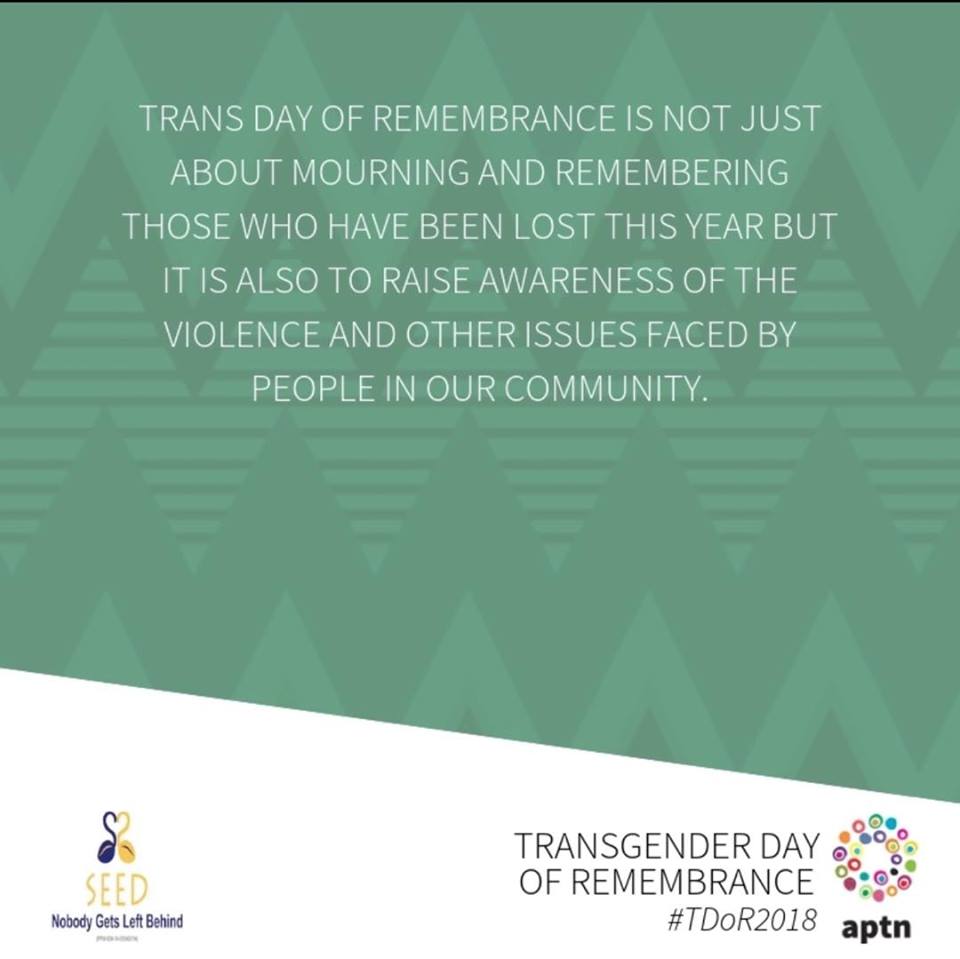 ~ ~ ~ ~ ~
To all trans victims and survivors, we are all fighters that will keep on fighting! RIP to all who has left us.
— Mimi Harlequin Ahmad, SEED Foundation
We are a unique, beautiful and powerful creation. Do not let hate and discrimination be our barrier to speak up in the eyes of the world. Continue to live happily no matter who we are.
To the transgender brothers and sisters who have been killed, may you rest in peace.
— Dina Salvatore Pattinson, SEED Foundation
~ ~ ~ ~ ~
Rest in peace, to all my dearest and my beautiful transgender women who has left us, love u all forever.
— Sarah Khanna
~ ~ ~ ~ ~
U SHINE THRU THE DARKNESS.
U ARE UNIQUE.
U WILL BE REMEMBERED.
RIP INNOCENT SOULS.
— Gina La Belle, Gina Dolls Entertainment
~ ~ ~ ~ ~
Perjuangan komuniti mak nyah tidak akan terhenti. Kita akan tetap mengingati mereka yang masih hidup atau pun sudah pergi. Kita akan berusaha sedaya mungkin untuk membuat perubahan. Kita akan mengatakan hentikan kegansan dan kebencian dan diskriminasi terhadap mak nyah. Yang meninggal dunia kerana HIV dll sebab mari kita sedekahkan Al Fatiha. Semuga mereka ditempatkan bersama orang yang beriman.
— Khartini Slamah, Asia Pacific Transgender Network
~ ~ ~ ~ ~
Speak out and be proud of who we are ❤️
— Mitch Yusmar Yusof, SEED Foundation