This KL clinic delivers PrEP and HIV medication to anywhere in Malaysia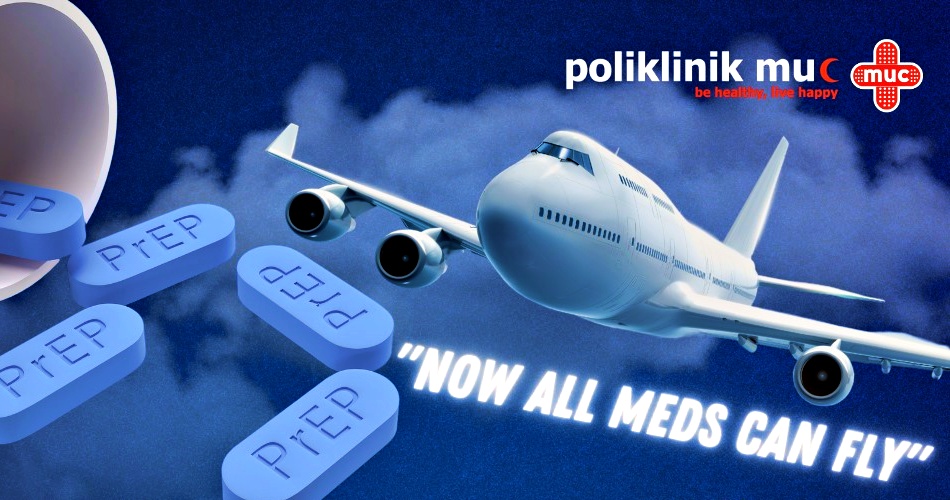 By RYAN ONG | 7 Nov, 2020
"They were having a panic attack cause they can't travel, so they contacted me at close to 2 am asking if PEP can be delivered". MUC Healthcare director and clinical sexologist Dr Rachael Winston (prefers Ray, he/him) is referring to a recent case where one his patient's condom broke while having sex.
For people who believe they have been exposed to HIV, PEP can make all the difference. Short for post-exposure prophylaxis, PEP can prevent the virus from taking hold in the body but it needs to be taken within 72 hours of exposure. Every minute is crucial. Thankfully, Dr Rachael managed to deliver the meds first thing in the morning and they arrived on the same day.
This is just one example of how a crisis was averted through the much needed HIV medication delivery service by the LGBTQ-owned clinic, MUC Healthcare.
Why are HIV medication deliveries so important?
Huge barriers stop LGBTQ people from getting tested or treated for HIV. These include laws that make LGBTQ people criminals, rising homophobia and transphobia, and prejudice against people living with HIV (PLHIV)—which shockingly—occurs even among doctors.
In one case, a PLHIV person delayed going to the hospital for months because he was afraid his doctor would report him to the police for having sex with a man. It's no wonder then that HIV transmissions among gay men and transgender women are rising compared to other demographics.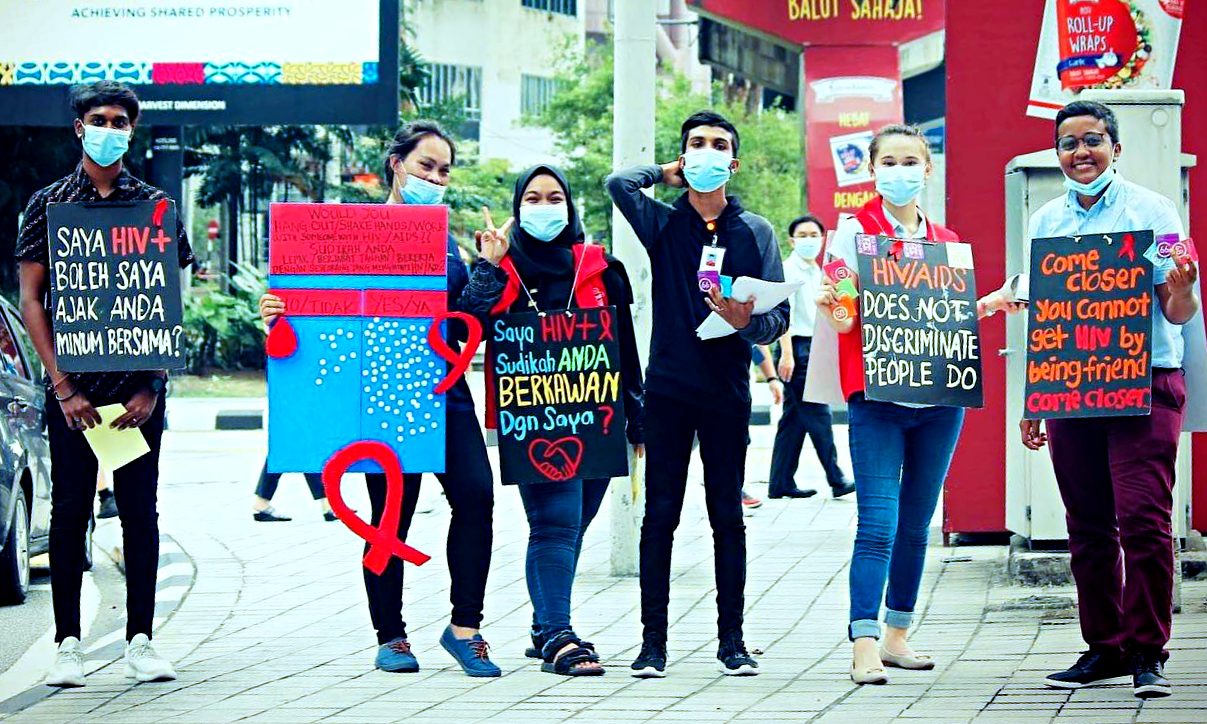 To make matters worse, Covid-19 has further widened the gap for communities that need sexual health services.
We have received reports from NGO Jejaka that some PLHIV have avoided going to the clinic to get their prescriptions refilled because they were afraid of police harassment at roadblocks. Those who were stuck in their hometowns and away from their regular clinics in KL couldn't find others that were as safe and accessible.
Dr Rachael considers this issue "very alarming because I feel sexual health diseases affect not only people in KL but also rural areas and I feel it is very important that everyone has the proper channel and excess to medication and proper consultation". 
When the system and institutions turn a blind eye to LGBTQ people, it's up to clinics like MUC and our own communities to help ourselves.
What HIV medications do MUC Healthcare deliver?
MUC Healthcare offers a complete range of Antiretroviral drugs which are PrEP (pre-exposure prophylaxis), PEP (post-exposure prophylaxis), and ART (Antiretroviral therapy). The first two prevent HIV infections while the last one treats people living with HIV (PLHIV).
PrEP

is a pill that people can once a day or on-demand to significantly reduce their risk (

by over 90&

) of being infected by HIV. 

PEP

is a one-month course of medication that is taken as an emergency (within 72 hours after exposure to HIV) to prevent infection. 

ART

are medications that PLHIV take in order to manage their condition and suppress their viral loads (the amount of HIV in their blood). Most PLHIV who adhere to ART have viral loads that are low enough that HIV cannot be detected in the blood. When this occurs they can no longer transmit HIV through sex. This is the concept of U=U or undetectable = untransmittable.
Is this service suitable for emergencies?
Yes. We talked about how MUC Healthcare managed to deliver PEP within the same day.
However, if you are at high risk of HIV transmission (if you have frequent sex, multiple sexual partners, engage in chemsex or sex work), you should not solely be relying on PEP.
It's better to be on a PrEP prescription instead so that when issues like condom breakages occur, your risk is already close to zero. PrEP is affordable, easy to take, and has few side effects. It really does give you peace of mind when taken according to instructions.
How do you sign up?
Just call MUC Healthcare and the medications would be shipped from the clinic as early as the same day if you call early enough. There are no extra charges except for the delivery costs.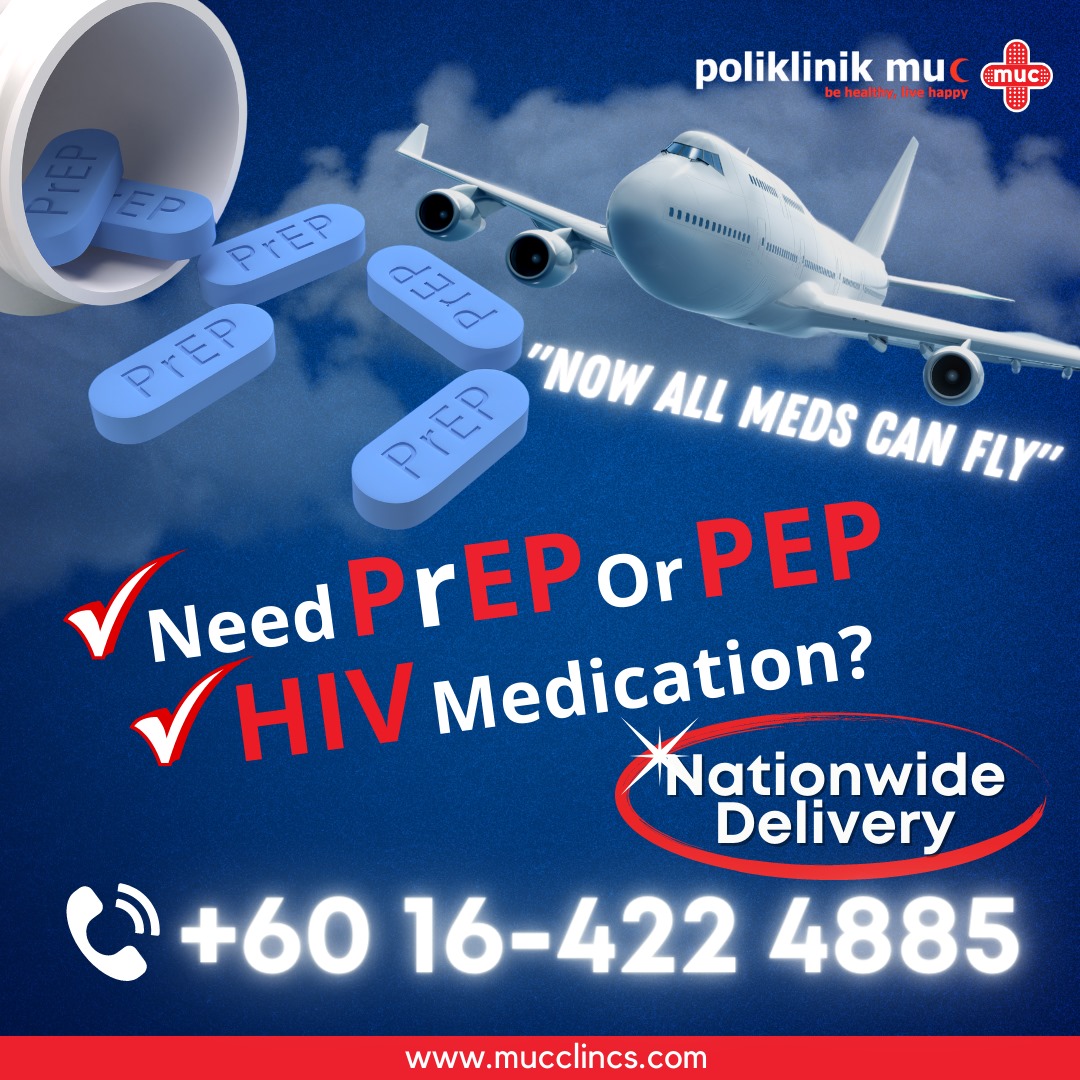 A month's supply of PrEP from MUC is around RM100, which is a highly competitive price. However, the doctors at MUC Healthcare are aware that many LGBTQ would still face difficulties affording it.  
What sets MUC Healthcare apart is that they work with a number of community organisations in order to raise awareness on PrEP and to reach individuals who are facing financial hardships. A particular partnership that I'm proud to highlight is the one with my organisation, PLUHO, People Like Us Hang Out!.
Our organisation is serious about providing services to the LGBTQ community in many areas including mental health support, shelter, and sexual health. We have provided all our members with a 'Privilege Card' to receive discounts for PrEP at MUC Healthcare. To be eligible, just join our Facebook Group!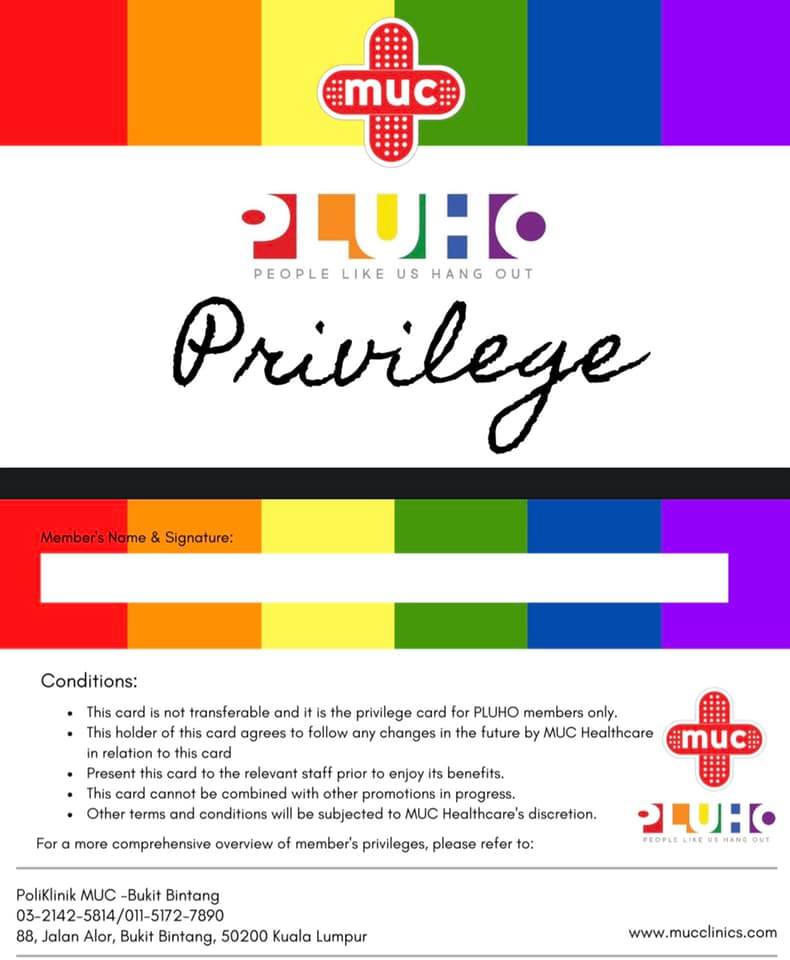 Is anyone eligible for PrEP?
In most cases, yes, especially If you are below 50 and have no pre-existing kidney or liver issues.
But as a precaution, all patients would be required to get their kidney and liver function tested and monitored regularly from a clinic or centre near them. 
While the medications are safe, they tend to tax the kidney and liver slightly as they're meant to be taken daily. MUC would refer you to a trusted nearby testing centre if you do not have a regular one.
Get in touch with MUC Healthcare
MUC's main clinic is in Bukit Bintang with branches in Kajang and Negeri Sembilan. 
MUC Healthcare, 88A, Jalan Alor 50200 Kuala Lumpur (Next to MRT Bukit Bintang)
Phone number: 03-2142 5814
Email: contact@mucclinics.com
The clinics offer comprehensive testing, treatment and counselling related to sexual health. To better serve patients, they also provide house visits and are implementing online consultations and prescriptions (via zoom). 
They have also implemented a protocol to protect LGBTQ patient's privacy and confidentiality when entering their clinics. Just mention 'Code Green' and everything else would be taken care of.
Additionally, UMMC has set up a website for you to search for a PrEP provider nearest to you here.
~~~~~~~
This article is not professional medical advice and only provides information to empower you to make decisions for your own sexual health. Seek a medical professional if you have any concerns.
Ryan Ong is the associate editor of Queer Lapis and is also a co-founder and community organiser at PLUHO, People Like Us Hang Out!