Confessions of a Toothpaste Collector
An autobiographical fantasy by Ann Lee. Illustration by SLUT.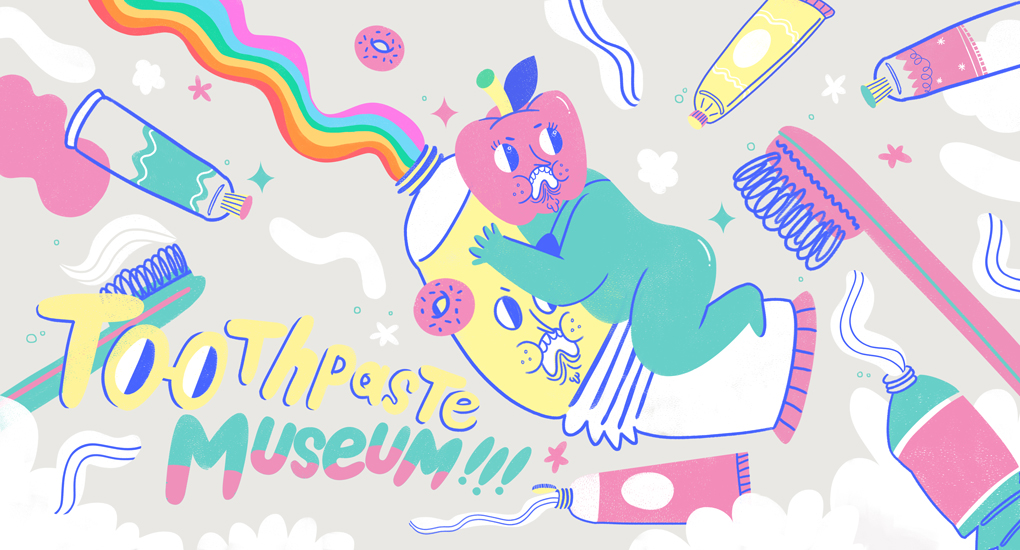 THERE'S SOMETHING about morning breath that is proof of irrefutable truth, a home pregnancy test for maturity, a poetic if paradoxical reminder that garlic is a magnificent thing. But that's not why I collect toothpaste.
Why do you collect? I started collecting toothpaste about 30 years ago – by accident but no big Freudian slip, I think. There is a psychology to collecting; seems we all collect things, but if you hoard them, then that becomes a pathology. Who knew that an arctophilist collects teddy bears, a deltiologist collects postcards, or that a ledangitist collects mosquito hearts?
The toothpaste contains no stolen items. It's just that toothpaste was cheap and easy for friends to bring from their travels. For instance, one toothpaste from Croatia promises 'intense refreshment'. (Must have been dull to live in the former Yugoslavia.)
The collection is, yes, in mint condition, but toothpaste comes in many other flavours – chocolate, earth, alcohol, lemon, and salt. Another cherished example is a Crest toothpaste that comes in chocolate mint flavour. 'Be adventurous', it says in bold print and a spray of fireworks and stars. There's lots of lemon and salt, rock salt, pink salt, Himalayan salt flavours. As for colours, there's the typical glacial range of blue and green. There's gorgeous black toothpaste from charcoal, and passionate red dental cream from Spain (used by matadors, benar).
I have so many samples now, I can open a museum. I know 'museum' is another word for boring, but there's the Library of Water in Stykkisholmur, Iceland that's super cool and not only because you get up close to 24 columns of glacial water (replete with two million+ year-old pathogens). My toothpaste collection needs a home just as mesmerising.
I'm in secret talks with designers, seahorses, financiers, a security company, and my partner to help me figure it out. What's the best way to display toothpaste? Dr Val Kolpakov has the world's largest collection of toothpaste, at over 2,000. But he's a dentist and he displays them in closed glass cupboards in his waiting room. Can't think of a worst way.
Since packaging design is ecstasy for those who appreciate the fine arts, visitors to my miuziummm (it's only a working title) will need to see the packaging boxes from all six sides. Sure, how did toothpaste get in the tube? But how did the toothpaste tube get to be a toothpaste tube?
I can share a few home truths: first, toothpaste came in powder before it ever came in paste. In fact, it came as wood before it came as powder. Apparently, the first toothbrushes were fashioned from twigs of fragrant wood. There's wood that reveals a stubborn brush texture when you peel the bark away. A very important religious figure is known to have used this. Wily makers have found a way to copy its taste and add a new toothpaste flavour – if people used to talk about transfer of technology, today it's the transfer of faith. I get it that it's an everyday way of coming closer to God – into your mouth, over your teeth, all over your day. I have six different brands of such twig-tasting toothpaste and all six come in green and gold packaging. I have another two that come in completely white packaging.
But how, you ask, to enjoy the taste of each toothpaste? I only have one sample of each, so traffic management in the miuziummm will be tricky. Some toothpaste, trust me, tastes like a dog's breakfast. (I quite like dogs but not dog's breakfasts.)  Some people have a sixth sense for food that's way beyond its expiry date. That's a good thing, my brother says. (He loves my collection, even more than his stamp collection. I love my brother even more than his stamp collection too. Sorry, stamps.) There is a certain sensuality to a full toothpaste tube, so visitors will need to feel and hold one for themselves.  This might lead to long queues. We may need an age limit for this part. A height limit for easier crowd management?
All visitors can choose their own toothbrush. Fun is paramount but hygiene is paramounter.
There'll also be a collection of those hotel-airport dental kits – you know the ones, the toothbrush is for adults and the colgate is for elves. They look like love-and-marriage go together like a horse-and-carriage.  (The two of them make it work, who am I to comment?) There's also a kind of a garage for the head of the toothbrush. I suppose it works like a condom or what they used to call, back in the Early-HIV day, a 'dental dam': a square rubber sheet, about hand palm size, and you were supposed to put that over your lover's cunt before you could have your cunning way with it.
Yes, every toothpaste is a character in its own right.
The collection now stands at about 100, every one of which is very special. I'll never throw them out. We've known one another intimately. They've usually begun, transformed, and ended the day.
My father says that when he dies, he wants to be cremated – for what bury and prolong, soul gone, only the shell left? He doesn't get it that his skin is what we know of him; makes him recognizable. His teeth make his Duchenne smile.
Mum definitely doesn't want to be cremated. She wants to be buried so that we have somewhere to visit. Now that they're elderly, the decision needs to be made. But I don't know where to sit between these two schools of life and death.
Some days, all I know is toothpaste is my favourite squeeze.
~ ~ ~ ~ ~ ~
Ann Lee is from Sabah. She is back to school to be a doctor.