Join This Writing Workshop for Rising Queer Writers In Msia & Beyond!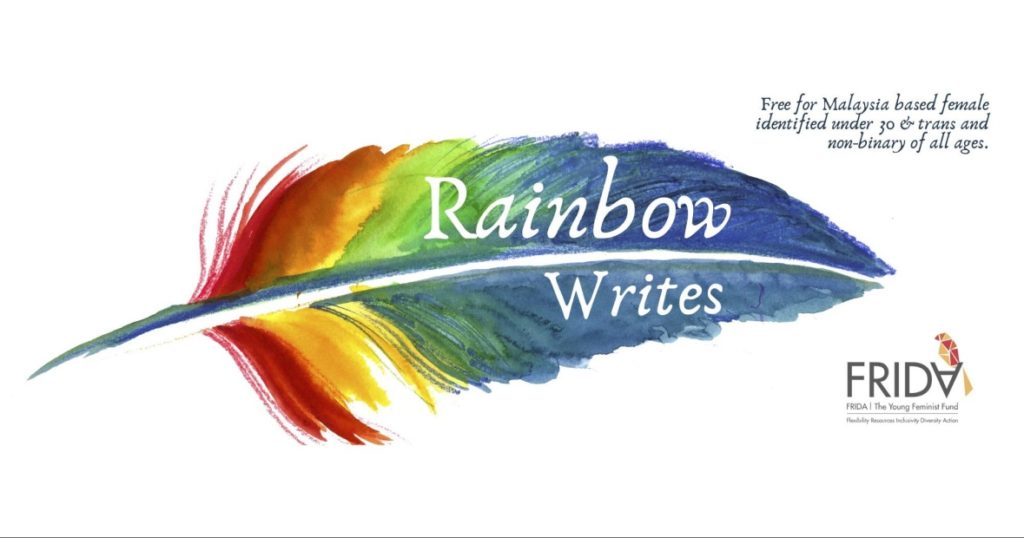 By Queer Lapis | October 27, 2020
Nestled in a cozy studio space above a mamak sits poet Cat Brogan with Rimba, the resident cat, eagerly awaiting Rainbow Writes, the weekly online writing masterclass that she worked tirelessly to organise.
Equipped with loyal notebooks and warm visions, aspiring writers worldwide gather to practice their craft despite, or perhaps especially, during this pandemic. 
"Write. Write again. Always."
This is the message that captures the spirit of week two of the eight creative writing lessons, led by Costa Book prize 2019, Mary Jean Chan.
What is Rainbow Writes?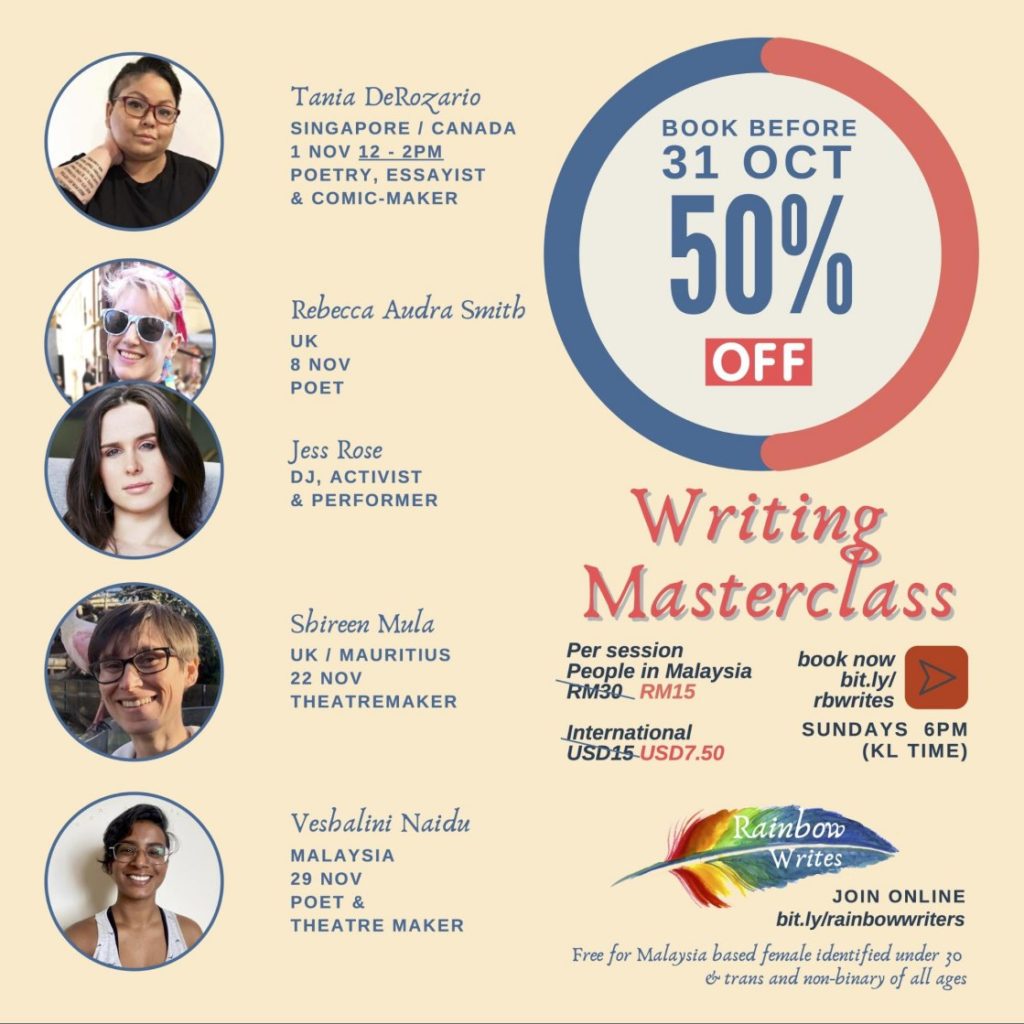 Rainbow Writes Writing Masterclass Series is an 8-week program led by and designed for queer-leaning writers. 
As the violent tides of change sweep over our political landscape, this writing program invites us to unite and hold steady against it. 
'As we weave our masterpieces, we interlace diamonds between the threads,' a reminder of how we should sculpt our stories like precious gems—strong, brilliant, and piercing.
What would I be learning?
Participants of the workshop series can expect to receive classes on style, atmospheric writing, conceptualisation, and character development as well as gaining confidence to articulate their queer experiences. 
Rainbow Writes invites all writers interested in improving their craft to work with the help of by professional, award-winning female, non-binary & trans writers, poets and playwrights from Malaysia, Singapore, Hong Kong, India & UK.
When and where?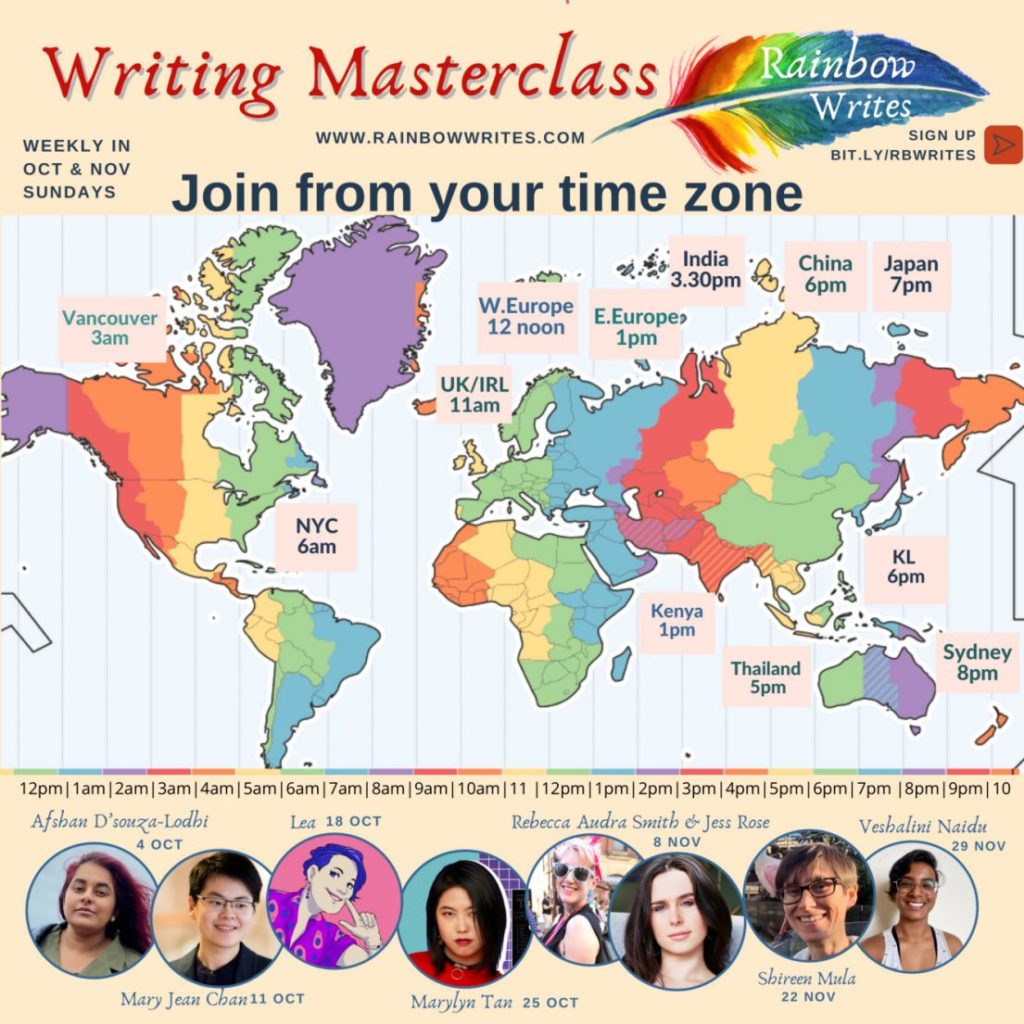 Rainbow Writes classes happen online every Sunday of October and November this month at 6pm Malaysian time (GMT+8), and it's open internationally!
Rainbow Writes is currently in its fifth week, and there's still time to catch Singaporean Tania De Rozario on 1st Nov with a Halloween writing special all about Making Monsters. She will share her love of horror films and how empathising with monsters we've been taught to fear can free us to find our own voices, and/or tell our stories in new and interesting ways. Tania won the 2020 New Ohio Review Nonfiction Contest.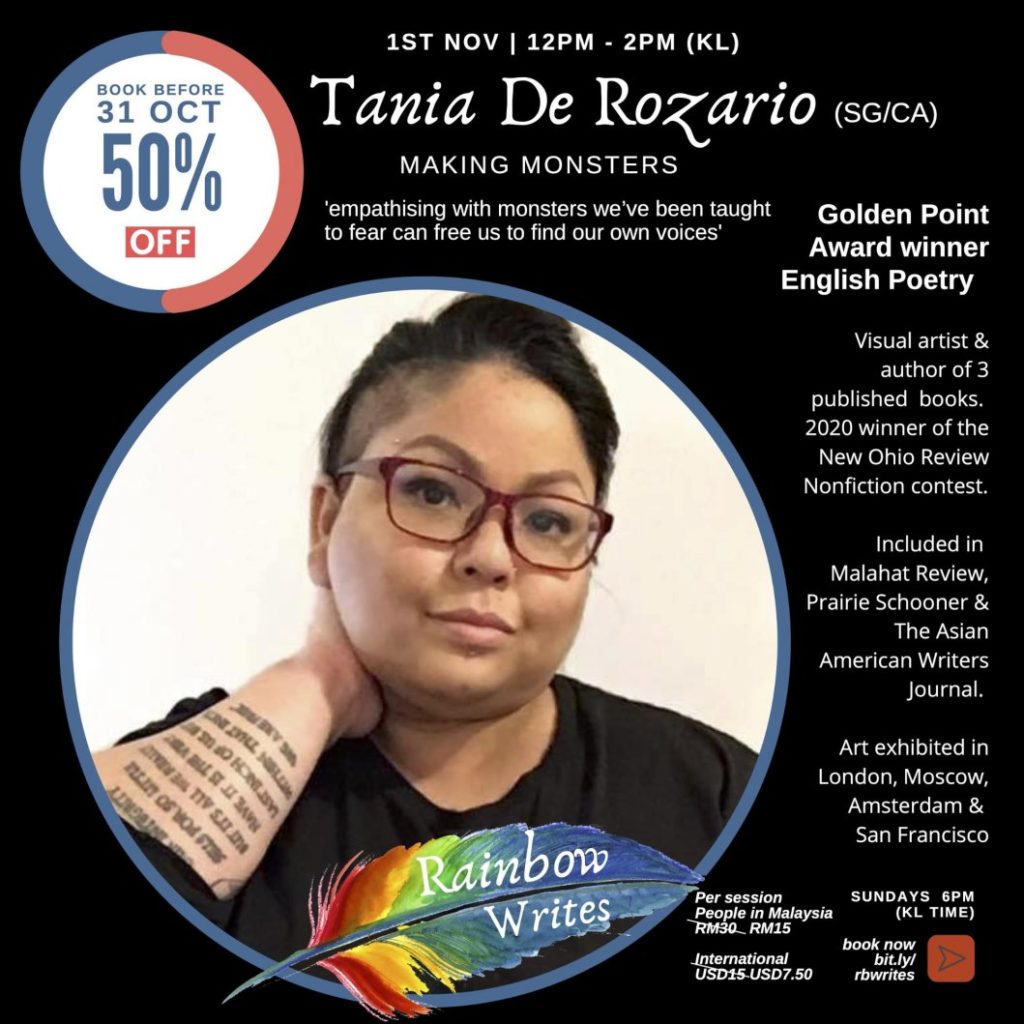 Each masterclass is USD 15, RM30 for people based in Malaysia and free for Malaysia based women under 30-years-old, and non-binary and trans people of all ages. 50% off if you sign up bit.ly/rbwrites before 31st Oct. More info bit.ly/rainbowwriters or email catbroganpoet@gmail.com for more info
Full program
4 Oct | 6 – 8pm | Afshan D'souza-Lodhi | A Glossary for the Self
11 Oct | 6 – 7.30pm | Mary Jean Chan | QUEERNESS AS TRANSLATION
18 Oct | 6 – 8pm | Lea | Building Your Voice
25 Oct | 6 – 8pm | Marlyn Tan | Cutting to the Quick: Writing Queerness
1 Nov | 12 – 2pm | Tania De Rozario | Making Monsters
8 Nov | 6 – 8pm | Rebecca Audra Smith & Jess Love | Trans Rights and Free Write
22 Nov | 6 – 8pm | Shireen Mula | Yourself As Inspiration – Autobiographical Writing
9 Nov | 6 – 8pm | Veshalini Naidu | Inner Flower Monologues
** This workshop is made possible by the generous support and funding of FRIDA (Young Feminist Fund).