Update: "Akhir Zaman" Taken Down On All Platforms Except Deezer and Joox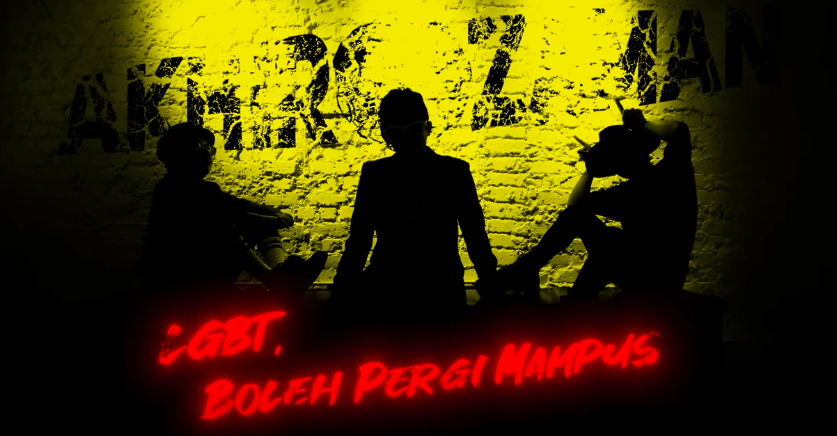 By Queer Lapis
12/3/20 Update: Apple Music has removed the homophobic song from their platform. Deezer and JOOX are the only platforms yet to take action.
11/3/20 Update: The song remains on Apple Music along with other streaming platforms including Deezer and JOOX. Deezer has said they are reviewing if the song breaks any of their policies while JOOX has been unresponsive.
9/3/20 Update: Spotify has taken down the song within less than a day after being contacted by Queer Lapis. Apple has been largely unresponsive to the matter with one of their support staff stating this:
"Apple welcomes and appreciates your comments and suggestions. To ensure that all artists are treated fairly, our policy is not to censor artist content that may be deemed offensive, indecent, or objectionable.

You may want to express your concerns to the artist's record label. Though the label might not agree to withdraw the content, they might be able to offer a "clean" version on the iTunes Store."
8/3/20 Update: The song has been taken down from YouTube shortly after international media attention on sites like Pink News and widespread backlash. However, "Akhir Zaman" has been uploaded to the band's Spotify, Apple Music and iTunes pages. It is possible to report the song on these platforms in similar ways and concerned folks are advised to do so. Queer Lapis has reached out to Spotify and Apple regarding this issue.
---
The Twitter-verse is up in arms over Bunkface's new song containing the lyrics, "LGBT pergi mampus" which translates to "go die, LGBT" or "go to hell, LGBT".
Titled "Akhir Zaman" or "the end of times", the polemical punk song appears to rant on the issues plaguing the country.
During Malaysia's political turmoil at the top, an angry protest song might seem timely. But for Bunkface, this rage isn't just directed at corruption and the political elites, but also the LGBT community, which is an odd and unfortunate inclusion, to say the least.
The inclusion of pseudo-religious lyrics and commentary on "current affairs" reeks of something incredibly dangerous — an outdated band willing to do ANYTHING to stay relevant.
Calls for mass reporting
The LGBTQ community and its allies have mobilised online to report the song on YouTube for its derogatory lyrics, and it appears to be gaining traction.
Here's how you can do that if you're interested:
Our tech overlords, which includes YouTube, typically have so-called "impartial" community guidelines which enable a lot of anti-LGBT and hateful content to fester. However, mass reporting is often an effective strategy, used on both sides of the political divide, to take down offensive content.
What netizens are saying
Many Malaysians stood up against the band's stunt with varying levels of critics. Here are some of the top tweets.
Many netizens commented on how the band has betrayed the spirit of punk i.e. support for minorities and the marginalised. With a climate that is increasingly unsafe for the LGBTQ people, the last thing the community needs is more hateful messages directed at them.
Blaming social anxiety and economic problems on people who are already marginalised is shallow and dangerous. It might even prove popular as it taps into existing misunderstandings of LGBT people and fans the hatred further. This song wants badly to be punk but it is just drunk, it should go home.
Read this analysis by Faris Saad from Shh… Diam!! on how the song appears to be a projection of pain Sam, the lead singer is facing in his tumultuous personal life.